TIPS FOR THE FINALISTS: Here's what you should know before the Brainfinity 2021 finals
The Brainfinity finals are upon us, so it's important that you prepare well. Here are some tips and guidelines for the finalists.
1. When will the Brainfinity 2021 finals officially take place?
This year's Brainfinity finals will take place on Saturday, 12 June, starting from 9 AM at Savremena Gimnazija in Belgrade (5 Masarikova Street, entrance from Kralja Milana Street, Belgrade Palace).
It's important for all teams to follow the competition schedule.
Check out the full competition agenda: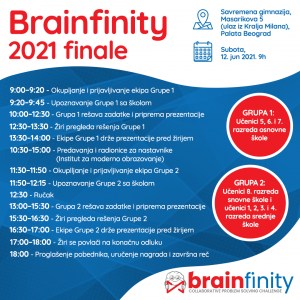 2. How to access the problems in the Brainfinity 2021 finals?
Access the problems in the finals just like you did in this year's Brainfinity Challenge. You need to register via THIS link.
Your username is: your team's email address (e.g. ekipa1@gmail.com)
Your password is: Brainf@2021 (if you haven't changed it)
IMPORTANT: Be sure to log in via this link before the finals, and let us know if you have any difficulties so that we could solve all issues in due time.
3. Time for solving problems and preparing presentations
On arrival at Savremena, the teams will be assigned classrooms in which they will solve problems. The teams will have 2 hours and 30 minutes to solve 3 problems and prepare presentations for the judges. Each team will have 3 minutes to present the presentations to the judges.
Given that the teams will create presentations in Google Slides, it's necessary that they master this tool.
All the information on how to access the problem-solving platform can be found in the detailed explanation we'd prepared for you before the Brainfinity Challenge.
4. How to navigate the problem-solving portal?
After logging in to the portal, you will see all three problems, which you can download by simply clicking on them.
You can open the problems as many times as you like; however, only one team member should log in to the portal (if several people log in simultaneously, your answers may overlap, which can affect your final score).
5. Your answer in the Brainfinity 2021 finals MUST be in PDF format
You can upload answers in PDF only. You cannot attach images, documents or other files.
Please remember that your PDF must not exceed 10 MB (larger files cannot be uploaded). To submit your answer, click on "Pošalji rešenje" (see image):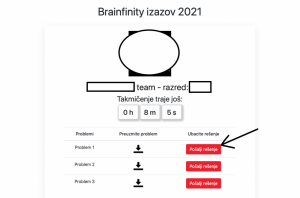 After you click on "Pošalji rešenje", a window will appear where you can select your PDF ("Choose file") and click on "Sačuvaj".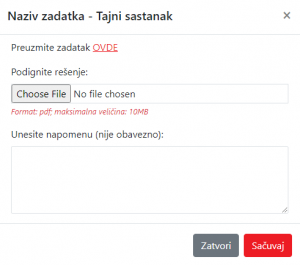 f you haven't sent the right file or want to modify your PDF, you can do so throughout the competition by clicking on "Izmeni rešenje" (see image):

Click on the red X (see image below) to remove the previous answer and select "Choose File" to submit a new one: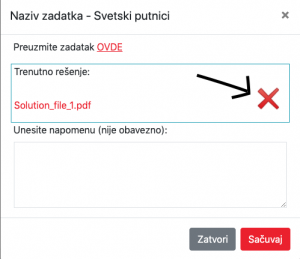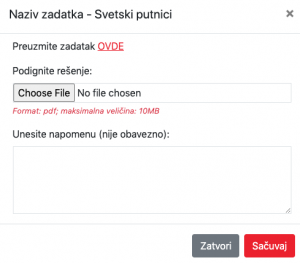 6. You will get the answers to all questions at Savremena Gimnazija
In the Brainfinity finals, teams can get answers to all questions from our organizers who will have their ID cards at all times.
Feel free to approach them should you need any assistance.
Good luck to all Brainfinity finalists