Solve the second Brainfinity problem to qualify for the second round of Brainfinity 2021
Here is the second Brainfinity problem! Solve this literary problem and take your team to the second round of Brainfinity 2021.
The winning teams from previous Brainfinity competitions needn't solve these problems, as they have directly qualified for the second round of Brainfinity 2021. However, this is an excellent opportunity for them to practice and prepare for the serious tasks that lie ahead.
This time, the team behind Brainfinity has prepared a problem in the form of a poem.
Here are the first two stanzas. Analyze them, discuss them with your team and try to solve the mystery.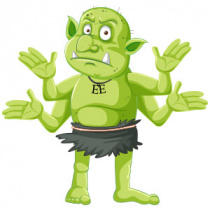 This poem is your second Brainfinity problem
With 10 Earthling fingers it's a number,
But the true meaning lies in our form.
For a computer language it's no secret,
A name is hidden in 51898.
Our Ancient Alien learned a strange script.
With the howl of a creature who was his neighbor,
He became the legend of many a story.
But remember well the words of Undos:
He was a legend, but the steady watermill
Reminds us to this day of his deeds.
Who is the Ancient Alien?
Read carefully the first two stanzas of the poem. If you know the identity of the Ancient Alien, write their name and surname in lower case letters without diacritics HERE.