What should you know before Brainfinity Challenge 2021?
The Brainfinity Challenge is around the corner, so prepare yourselves the best you can. We have some suggestions and guidelines for all the teams that have qualified for Brainfinity Challenge 2021.
1. When will Brainfinity Challenge 2021 officially take place?
This year's Brainfinity Challenge will take place from 10 AM to 12 noon on Saturday, April 3. By then, the teams that have qualified will solve three problems from a location they've arranged ahead.
Tip: Teams, set up your location for the Challenge on time. Think about whether you will all be together or not. Prepare your computers and phones, check your internet connection, etc.
2. How to access the Brainfinity Challenge 2021 problems?
To see this year's problems, please register at THIS link.
Your username is: your team's email address (e.g. ekipa1@gmail.com)
Your password is: Brainf@2021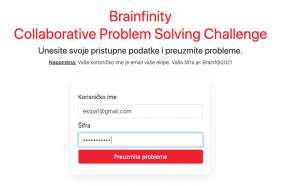 At precisely 10 AM on Saturday, April 3, 2021, you will receive three problems at this link. From that moment on, you will have two hours to solve the problems and the countdown will appear on the same link.
Tip: Remember your team email, as it's the only way to access this year's problems. If you have forgotten your team email, contact us as soon as possible! And don't forget to think of a strategy – how much time you will allocate to each problem, what responsibilities your team members will have, who will send the answers, etc.
3. How to use the portal?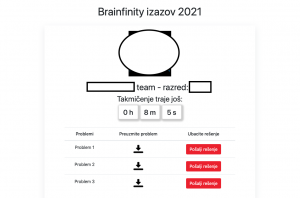 Once you've logged on to the portal, you will see all three problems. Click on any one of them to download it.
You can open the problems as many times you like, however, bear in mind that only one team member can log on to the portal (if multiple members log on simultaneously, your answers might overlap, which can affect your final score).
Tip: Choose one team member to access the portal in order to avoid potential overlap.
4. Your Brainfinity Challenge 2021 MUST be in pdf format
You can submit your answers in pdf format only. You cannot send images, documents and other attachments.
What's extremely important is that your pdf cannot exceed 10MB (you won't be able to submit larger files). To send your answer, click on "Pošalji rešenje" (see image).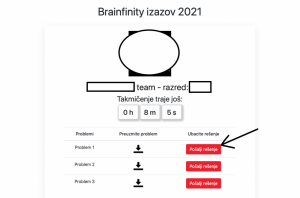 After you click on "Pošalji rešenje", a window will appear where you can select your pdf ("Choose file") and click on "Sačuvaj".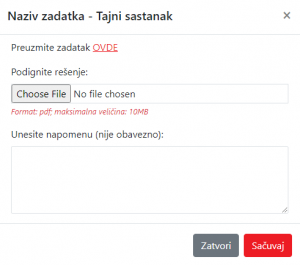 If you haven't sent the right file or want to modify your pdf, you can do so throughout the competition by clicking on "Izmeni rešenje" (see image):

Click on the red X (see image below) to remove the previous answer and select "Choose File" to submit a new one: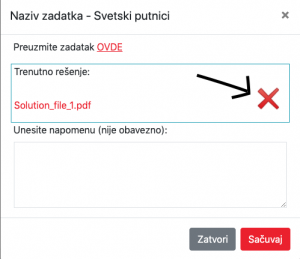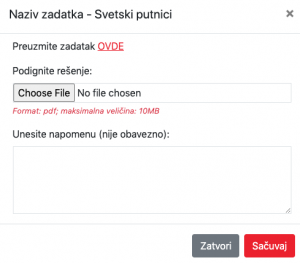 Tip: Practice creating a pdf file that doesn't exceed 10MB. This will reduce the possibility of having unforeseen problems during the two hours of the Challenge.
5. We're giving you a bonus of 10 minutes for corrections
After the clock strikes 12 noon on Saturday, you will have an additional 10 minutes to send your answers.
Answers submitted after this deadline will NOT be considered.
Tip: Test the speed of your computer and internet connection, as well as your computer skills.
6. The list of finalists will be published by Monday
The Brainfinity jury will carefully check and score all submitted answers.
This year, we have so many teams competing and the answers are often quite detailed. So, please be understanding if it takes a bit more time for the jury to check your answers and make the final decision.
The list of Brainfinity 2021 finalists will be posted no later than Monday, April 5, 2021 on the Brainfinity website, as well as on our official Facebook and Instagram profiles.
Tip: Be patient. Believe in yourself and in your decisions.
Good luck to all the teams that have qualified for Brainfinity Challenge 2021!